Our people
Dinand Burgers - Head of Finance & Accounting De Heus Myanmar
Dinand Burgers joined De Heus in September 2018, starting as International Controller in the Group Control department. His work field included Africa. When asked whether he would be open to a position abroad, he needed a bit of time to consider. However, he and his wife soon decided that this would be an interesting move. Early this year, the family moved to Myanmar, where De Heus has been operating since 2016.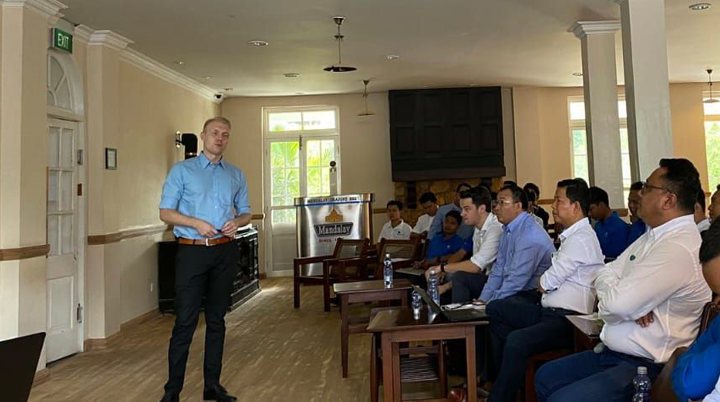 Numbers make the difference
Dinand's early affinity with numbers is reflected in his background. He studied Business Administration at Radboud University in Nijmegen. Began his career as Corporate Finance Consultant at Middenduin. Continued his career path with a position as Finance Manager at Struik Foods and in 2018 chose a new challenge as International Controller at De Heus. 'I used to drive past De Heus on the motorway every day, but I did not really know the company. It was the vacancy with the international character that appealed to me. I already knew that a family business suited me. However, in my last job I had been more concerned with reducing costs than growing the company. De Heus offers me the opportunity to really make a difference - in the field of Finance - in less developed countries. I love the cultural differences and helping a business unit grow,' says Dinand.
Personal development as starting point
When Dinand was asked whether he would be open to a position abroad, he needed a bit of time to consider. 'The idea had never crossed my mind. What were the options? Which country and what would be my role?' These were Dinand's initial questions. He started to get used to the idea and discussed the possibilities both at home and at work. 'At home, we soon decided "why not?". The children are still young and there was nothing to hold us back from going. Soon afterwards, I started an internal programme to broaden my knowledge. I went on the road with a bulk truck driver, observed operations in the procurement department and the stresses of logistics were further explained. It was interesting to find out how we do things in the Netherlands and see developments on these subjects in other business units,' says Dinand.
From De Heus Nederland to De Heus Myanmar
In the autumn of 2019, things started to move. 'Several concrete possibilities were proposed, including Myanmar. My wife and I visited Myanmar, to see the country, meet colleagues and experience the working environment. During our stay, the aqua factory was also opened. That was a good moment - it gave us the opportunity to meet everyone at the same time,' says Dinand. Eventually, they got the green light and Dinand and his family moved to Myanmar at the beginning of this year - just in time. 'Our first three flights were cancelled due to coronavirus. You can imagine how stressful it all was. The house empty and ready to set off, but not being able to go... Fortunately, flight option number 4 was a success.'
World of difference
'Having been in Myanmar for several months, I can say that there is a world of difference compared with the Netherlands. It is an interesting challenge to bring these two worlds together so that we can continue to professionalise the organisation in Myanmar. So that De Heus Myanmar is also ready for the growth we want to have in the future.' Because De Heus Myanmar is growing! Earlier this year, they opened a modern slaughterhouse. 'We are also building a broiler breeder company to increase the production of day-old chicks. This will enable us to offer local farmers more stability and certainty. By supplying them with day-old chicks, suitable feed and the agreement that De Heus will buy back the broilers. This makes the partnership with De Heus more interesting for the farmer in the long term,' Burgers concludes.