Koudijs starts building a compound animal feed factory in Ghana
On February 6th Koudijs Ghana celebrated the start of the development of its first compound animal feed factory in Ghana and in West Africa. Koudijs further enhanced its ambitions to strengthen its position in Ghana with this ultra-modern new production facility. Located on a 500 acre-site in Tema, near Accra, the new factory will be one of the largest compound feed production plants in Ghana, with a production capacity reaching 90,000 tons a year.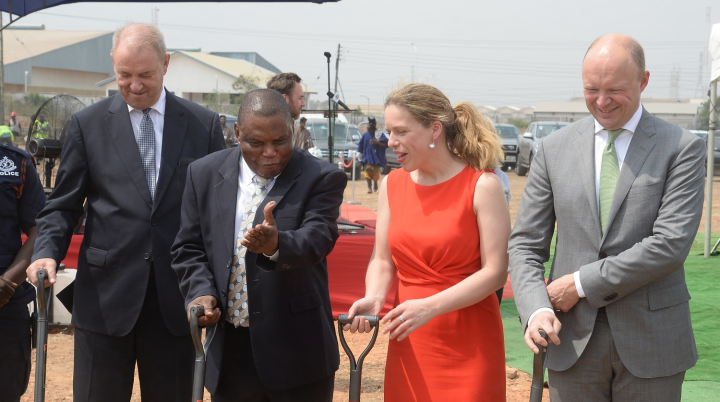 The inauguration was attended by the Dutch Minister of Agriculture, Nature & Food Ms Carola Schouten, the Ghanaian Minister of State in charge of Poultry Dr Nurah Gyiele and the Dutch Ambassador in Ghana, Ron Strikker.
General Manager of Koudijs Ghana, Hugo Visscher, said the construction of this plant underlines the strategy of the Dutch Royal De Heus (owner of Koudijs Ghana), to bring its local animal feed and husbandry knowledge to fast-growing and developing countries. Where it has previously built up a strong market position in Ghana, he said, it is now time to start local production to further enhance this leading position.
Visscher added: "The combination of global knowledge and local presence is one we strongly believe in. Sharing this knowledge locally feeds the performance of our customers business but also that of the local and regional economy."
Koen de Heus, CEO of Royal De Heus, expressed his pleasure at the new factory's ground breaking ceremony, describing it as a major addition to Koudijs. He stated: "Through our export division, Koudijs Animal Nutrition, De Heus has been an active contributor towards the development of a more robust agricultural sector in Ghana for the past decade. Today we bolster this relationship and commit ourselves to feeding the performance of the Ghanaian agricultural sector. De Heus invests in the construction of this advanced multipurpose animal feed production plant for Koudijs Ghana Limited to demonstrate our confidence in the Ghanaian economy in general and in aqua and livestock farmers specifically."
Dutch Minister Carola Schouten launched the ceremony
Dutch Minister Carola Schouten launched the ground breaking ceremony by initiating construction of the factory's foundations. In her speech she pointed out the tremendous challenge in building a sustainable agricultural system. As she explained: "We must find multiple ways to be sustainable. Sourcing locally, minimising food loss and re-using waste. At national and international level. Koudijs Ghana supports these philosophies."
Ghanaian Minister of State Dr. Nurah Gyiele noted in his address his extreme satisfaction with the fact that Royal de Heus brings so much knowledge to the Ghanaian agriculture sector, and that this is underlined by starting the development of a modern Koudijs-branded feed plant. Gyiele: "We hope this project would rekindle our resolve to achieve greater heights in the agro-industrial development. Let us embrace the project and ensure that maximum benefits are derived when the project starts to turn out output and services." And he added: "I thank Koudijs Ghana Ltd and of course their mother, De Heus on behalf of the Government of Ghana for taking this business opportunity to help provide part of the needed support for the fish and livestock sectors in Ghana."
Dutch Minister Carola Schouten and the Ghanaian Minister of State, Dr Nurah Gyiele took part in the ground breaking ceremony by initiating construction of the factory's foundations.