Vacancy Plant Manager
To extend its business in East Africa, De Heus, best known for the import & sales of its brand Koudijs, will start local production of animal feed in Uganda and Kenya. The new plant in Uganda will produce aqua feed to power the rapidly growing aquaculture sector.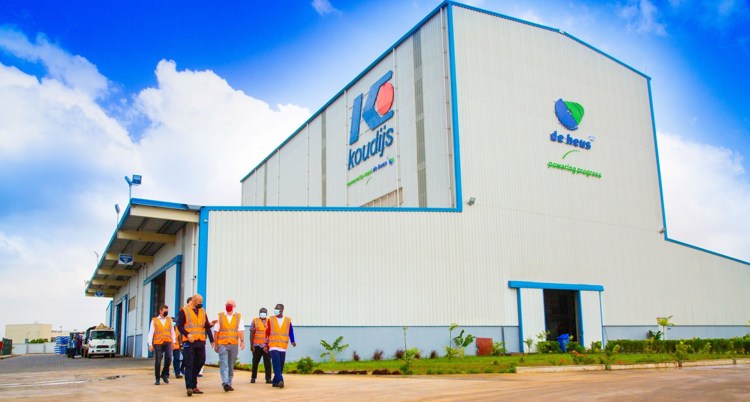 About De Heus
De Heus Animal Nutrition is the fourth generation family business that has proudly grown into a major global player with 10.000 employees. Explosive growth, organic and through acquisitions, has brought the company to where it is today. We have been in the Top 10 of largest Dutch family-owned businesses for years.
With a wide range of products for the agricultural sector, De Heus has a prominent presence in the food chain, and thereby contributing to safe and healthy food. Thanks to responsible and sustainable entrepreneurship, thorough knowledge and boundless ambition, the company has grown to a high level: a developer, producer and supplier of animal feed with more than 80 production locations in 20 countries. From there 75 countries are served and over 10 million tons of feed is traded annually.
In Uganda, De Heus is best known for the import & sales of its brand Koudijs. As the market leader in poultry De Heus also sells animal feed for swine, ruminants, and aqua. To extend its business in East Africa, De Heus will start local production of animal feed in Uganda and Kenya. The new plant in Uganda will produce aqua feed to power the rapidly growing aquaculture sector. Potentially it will expand into soy extrusion and produce poultry feed in the future.
For our new organization in Uganda we are looking for a:
Plant Manager
The Plant Manager is part of the local Management Team and has final responsibility for an effective production, managing and overseeing the whole process and day-to-day operations. You will manage, coach and develop the people in your department. You will lead the production department and are responsible for planning, organizing and regulating the production, maintenance and warehousing operation. For aquafeed production, you need also to oversee the extrusion process. As plant manager, you guarantee an effective return on capital and minimize costs while producing required quality and quantity of feed. You will continuously critically look at current systems and processes and improve them. The plant manager reports to the General Manager of Uganda and coordinates closely with other departments such as Purchasing, Logistics, Nutrition, QA, and Sales to be able to produce the right products at the right time.
Your key responsibilities will be:
Operational management of the plant which consists of production, maintenance, and warehousing and has all aspects like; HR, QA, health and safety (HS) rules, compliance rules, availability of raw materials, machinery, and quality and safety requirements.
Designing and building an effective production and maintenance team and facilitating development of direct reports.
Delivering production at the lowest possible costs, meeting company goals and client needs (KPI's).
Delivering required production output, product quality, and on-time delivery to customers.
Relations management (like local government, organizations, and customers).
Best possible staffing of the plant, training, and development of the staff.
Manage planning the supply and storage of raw materials and machinery.
Prepare the budget of factory expenses and CAPEX investment queries for the plant.
Providing input into strategic direction, potential improvements, and new business cases.
What do we expect from you?
You are overseeing processes, act independently, and are a problem solver and people manager. As you will be part of the start-up (project) phase, you will initially help in the plant design, focus on building the team & organization and become a line manager after.
You need to be highly motivated and pragmatic with the persistence and ability to thrive under pressure and changing circumstances.
Our ideal candidate has:
A degree in Engineering, Supply Chain, or related field.
At least 10 – 12 years of experience in working in production or operational roles in a manufacturing plant environment, of which at least 5 should be at a Managerial level, preferably in the Agri-processing sector.
Experience with extrusion would be a strong advantage.
Experience in management and prioritization for Safety, Health, Environment, Quality Compliance, and Management.
Knowledge of an ERP, manufacturing methods, and related equipment.
Ability to understand the implications of commercial strategies and to make operational changes to support organizational performance.
An entrepreneurial and practical mindset, willingness to learn and results focus.
Team orientation with strong people skills to get the most out of his team.
Regional and/or International experience/exposure is an advantage.
What do we offer?
De Heus offers you a challenging position in a dynamic and international context. You will have the opportunity to help realize our strategy and truly make an impact on Uganda by adding a missing link in the protein value chain and improving food security. We believe that our employees make a difference and power the progress of our fast-growing, highly ambitious organization.
The package comes with a competitive salary, depending on education, skills, and experience. Possibilities to grow in an international company with plenty of room for personal development.
The candidate should be willing to travel at least once a year to the Netherlands to meet with the team. Initially training at other plants (likely De Heus Vietnam) is required.
Location
At the plant in Jinja, with regular trips to Kampala
Application
Would you like to work in a successful and fast-growing international company with many opportunities for personal growth? Then contact us by sending your CV and motivation letter to Vanessa Katungye at vkatungye@steadmanglobal.com before the 28th of February 2023
Do you want to know more about this vacancy? Please contact Rachel Dumba at rdumba@steadmanglobal.com